Fast Private Health Fund Claims for All Services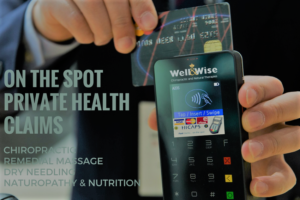 Insurance Plans
You don't need a referral or permission from anyone to see a Chiropractor. However, if you expect financial assistance from certain Private health fund insurance plans, some policies dictate that you take certain approval steps before commencing care. We are a Medibank Private Member's choice provider. https://www.medibank.com.au/?gclid=Cj0KCQjwgLLoBRDyARIsACRAZe4OYJf0RL3wCrxq5Xe580ZHfbPlVhsD35v_2p1OyeIwmSmMb6E0cmUaAv_zEALw_wcB&gclsrc=aw.ds.
On the Spot Claims
Well&wise is a registered wellness clinic with all the governing bodies. Therefore, we are able to use a HICAPS machine to enable fast and easy claiming on the spot. First, remember to bring your private health fund card with you for each appointment. Then, with each visit we swipe your card, and your fund takes a certain amount off the total price leaving an out of pocket fee. However, if your fund covers everything, there may be zero out of pocket fee.  Ultimately, the amount of the fee is determined by how much coverage you have for a particular service. Additionally, you can always check this by calling your private health fund and letting them know the service you have booked for.
Private Health Funds & Bulk Billing
Well&Wise offers rebates on all Chiropractic, Remedial Massage, Psychology, Dry Needling, and Acupuncture appointments.  We also offer BULK BILLING under certain circumstances.
There is no out of pocket fee for Enhanced Care Plan clients for both Chiropractic Care and Psychology. Only a GP can grant this Enhance Care Plan bulk bill on your Medicare Card.
Additionally, we treat those holding a DVA Card with the relevant referral from a GP, and clients that have an approved Work Cover Certificate. 
Psychology clients with a Mental Health Care Plan from a GP may also be eligible for Bulk Billing with a small $50 out of pocket fee.
No Private Health?
Consequently, if you don't have a private health care card, you can check out our fee structure on our website. Be careful that you don't allow your health to be compromised. It's your body, your health, and your future.